Capacity 20 000 mAh, fast charging technology - Quick Charge 3.0, 2 USB ports for fast charging, USB-C port for fast recharging, LED status indicators, robust metal body, protection against overvoltage, overheating and overcharging.

Package contents
Powerbank LAMAX 20000 mAh Quick Charge
USB / MicroUSB cable
User manual
Key features
20 000 mAh for charging your smartphone multiple times
Fast charging technology Quick Charge 3.0
2 USB QC3.0 outputs + USB-C connector for input/output
Charges mulitple devices at once, including USB-C devices
LED status indicators
Protection against overvoltage, overheating and overcharging
Robust metal body
Rounded edges for a comfortable and secure grip
Battery type: Li-Polymer
Dimensions: 135×70×24,5mm
Weight: 430g
LAMAX 20000 mAh Quick Charge
LAMAX powerbank with a capacity of 20 000 mAh suitable as a compact backup power source on the go for recharging your phone, tablet or other electronic gadgets with a USB or USB-C connector. Thanks to advanced USB Quick Charge 3.0 technology, the powerbank recognises compatible devices and enables you to charge higher-powered devices, thereby maximising charging efficiency and reducing power loss while maintaining maximum safety. This unique technology enables you to quickly charge your device up to 4 times faster than when using a conventional charger. Devices without QC 3.0 support are charged from the same port with a maximum charging current of 2.4A.
Power on the go
With a capacity of 20 000 mAh, this powerbank fully charges your mobile, MP3 player, GPS navigation, tablet or other gadgets several times over, no matter whether you are on a trip, on vacation or out on business, plus you can charge two devices at once. There is nothing worse than being stuck out of reach of a socket, especially at the most inconvenient of times – for example at the airport. Thanks to its lightweight and compact form factor, it fits comfortably in the palm of your hand.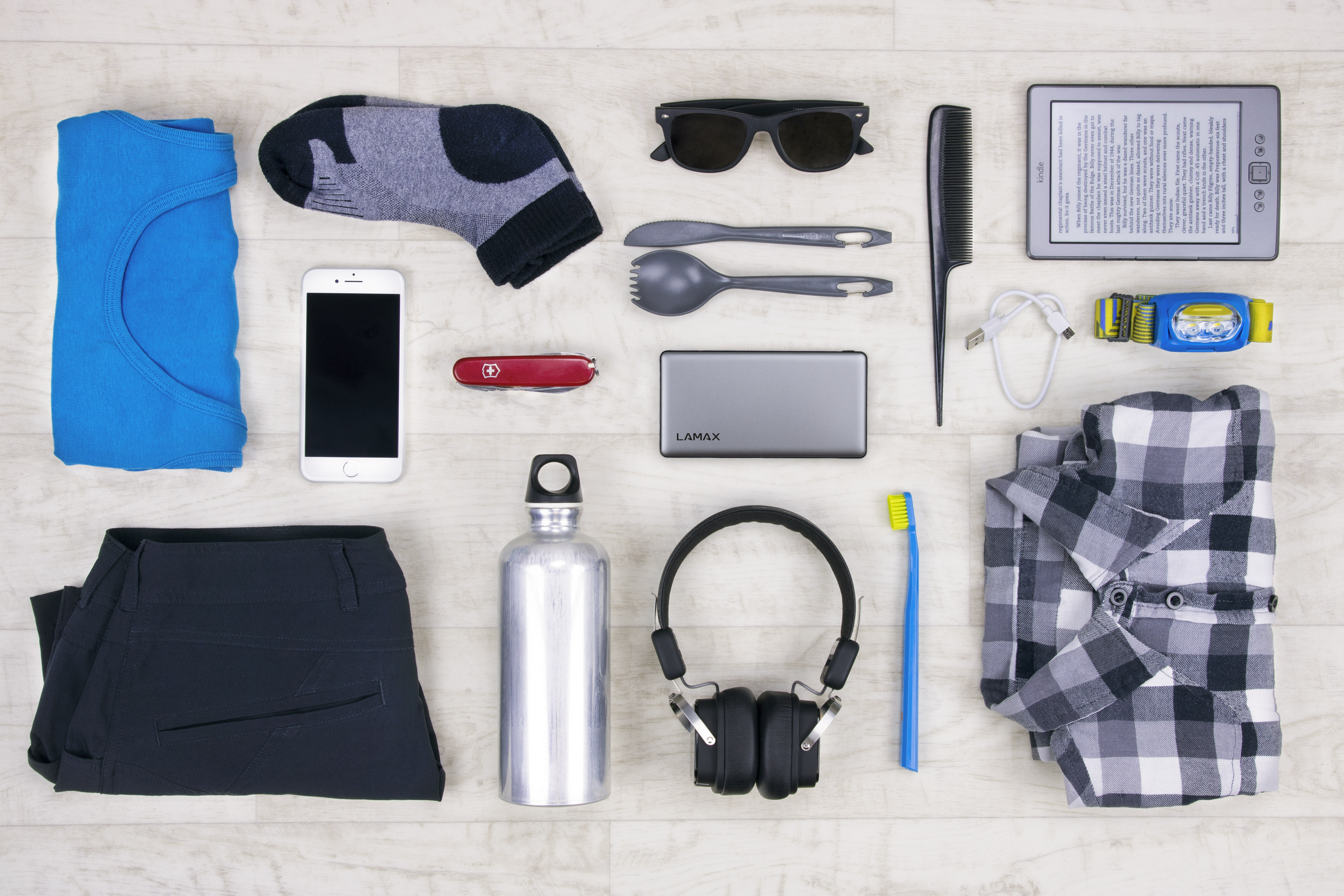 USB-C connector – even faster charging time for input and output
The modern two-sided USB-C connector with Quick Charge 3.0, serving both as an input and output, will be loved by all owners of new USB-C devices. It's not only the charging time of the device that's important, but also the power bank itself. Thanks to the USB-C connector, you can charge the power bank faster than the standard USB connector. Even with the classic microUSB input, the LAMAX 20 000 mAh powerbank can be fully charged in a matter of a few hours. No need to wait all day before taking your backup power out with you in your pocket or backpack. The fast charging feature is exclusive to the powerbank and quickly you'll forget how you ever lived without it.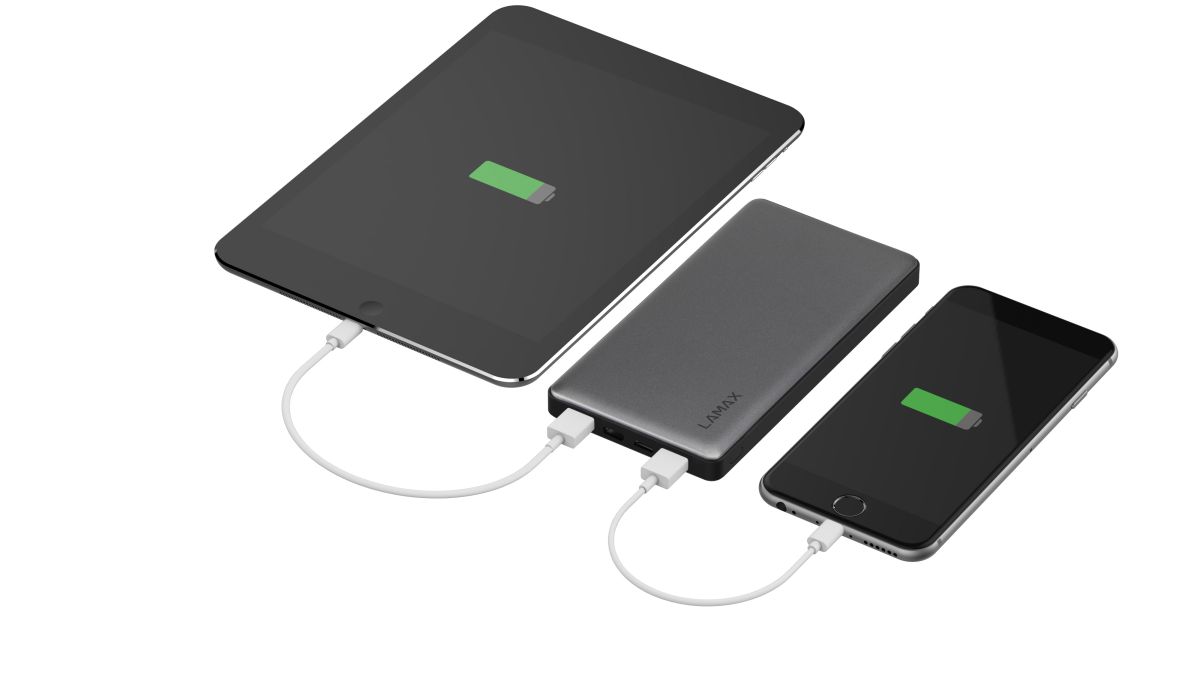 Fast and safe charging with Quick Charge 3.0 technology
The powerbank can charge up to three devices at a time. This means you can charge both your tablet and smartphone at once. Thanks to the smart charging of Quick Charge 3.0, it evaluates the compatibility of the connected device and uses feedback to determine its optimal charging performance and ensure the fastest possible charging. In addition to QC3.0, it supports all other available technologies and fast charging protocols, including MCP (Huawei), AFC (Samsung), PE (MTK) and more. Four LEDs indicate the amount of charge remaining and a modern control chip provides protection against overvoltage, overheating and overcharging.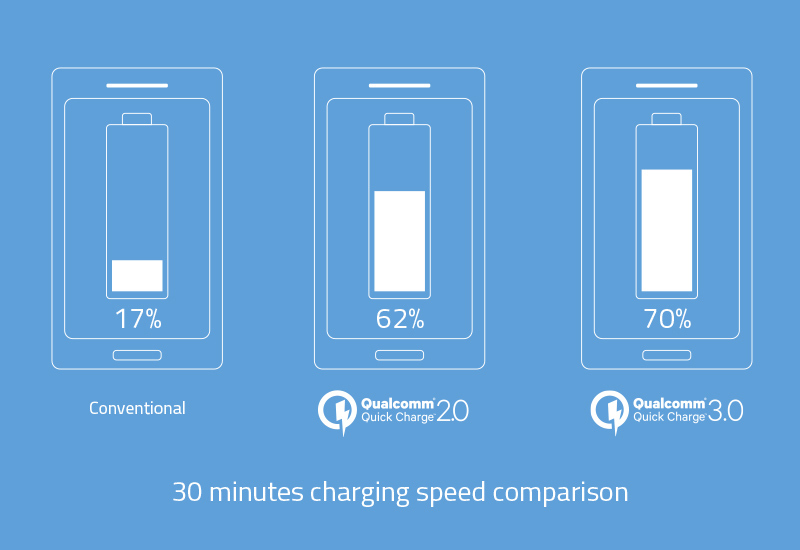 LAMAX 20000 mAh Quick Charge Parameters

Input
microUSB
5 V / 2 A, 9 V / 2 A
USB-C
5 V / 3 A, 9 V / 2 A
Output
2× USB Quick Charge 3.0
3.6 ~ 6.5 V / 3 A, 6.5 ~ 9 V / 2 A, 9 ~ 12 V / 1.5 A
USB-C
5 V / 3 A, 9 V / 2 A, 12 V / 1.5 A
Data
Battery type
Litiumpolymer
Dimensions
135 × 70 × 24,5 mm
Weight
430 g